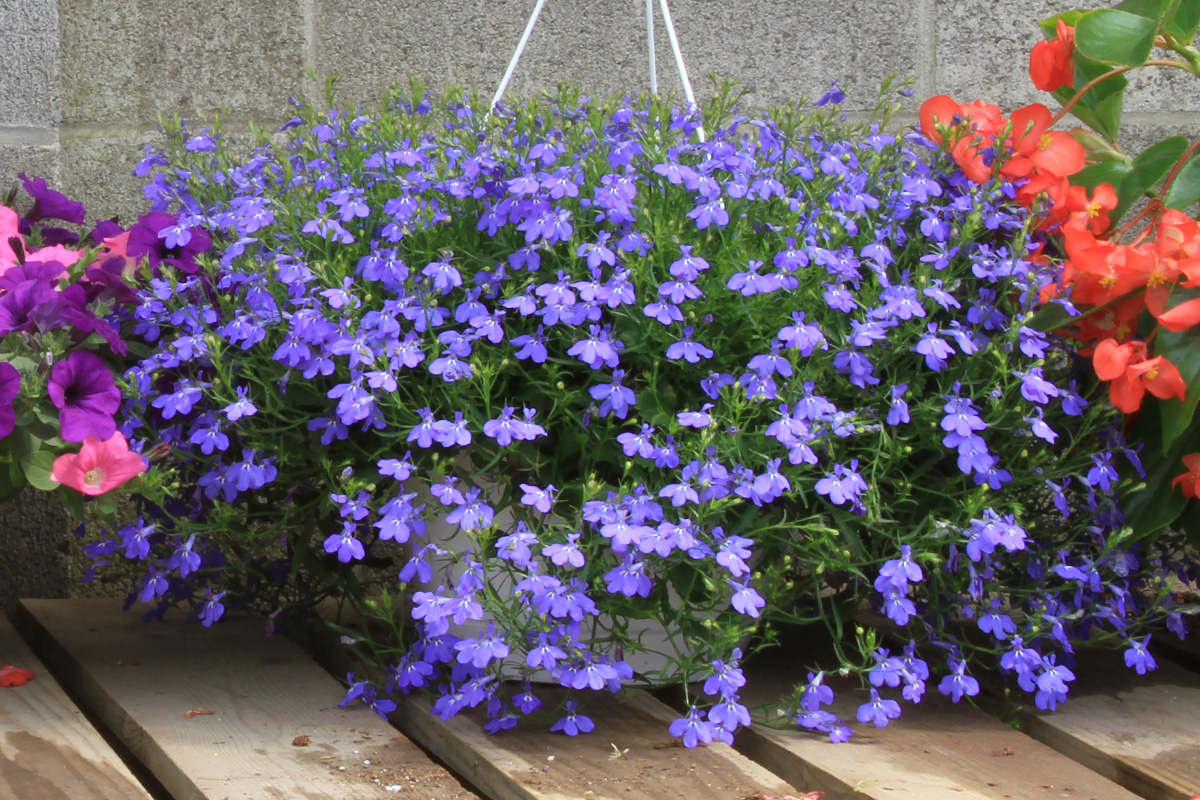 Lobelia: An Abundant Bloomer
Many people love flowers but they don't always have the time or resources to properly tend a long-term garden. There are many species that require specific soil types, watering schedules, persistent pruning and upkeep. So for the beginner gardener seeking a vibrant bloom that will last from summer through the first frost of the winter season, look no further than the luxurious Lobelia!
At Bengert Greenhouses, we offer a stunning variety of colorful hanging baskets and our 10″ Lobelia Hanging Baskets are no exception. These easy-to-grow flowers don't mind cool weather, so they're perfect for the Buffalo climate. Their beautiful electric-blue or violet blossoms pair perfectly with white alyssum or as stand alone decor for your deck, porch, or patio!
Planting, Growing, and Caring for Lobelia
Hang these stunning blossoms to wow the neighbors and passers-by, or transfer them from their hanging baskets to your garden bed to add another splash of dazzling color along the border.
Soil
Lobelia prefer moist, rich soil in a well-lit area that is well-drained. If you decide to replant yours in the ground, add a little organic fertilizer to the soil prior to planting.
Water
Water Lobelia frequently, especially when left in their hanging baskets, during hot, dry spells in the summer.
Sunlight
The amount of sunlight your Lobelia prefer will change with the season. In the spring and fall, give them full sunlight. In the summer, protect your blooms from harsh mid-day sunlight by relocating them to a spot that gets plenty of early morning sunshine, but shade during the hottest parts of the day.
Fertilizer
Add fertilizer once a month or every four to six weeks to encourage growth.
Pruning & Deadheading Lobelia
Lobelia are low maintenance flowers but you'll want to periodically deadhead yours to keep a neat appearance. After the blooms fade, carefully pull the stems or cut off old stems to promote new growth during the late summer and fall.
Fun Flower Fact: Lobelia attract butterflies and insect beneficials!
---
Prepare for the summer season by visiting Bengert Greenhouses. Not only will you find beautiful ready-to-plant potted Lobelia, but you will also find everything you need to prep your garden for the summer months. We proudly offer mulching services in addition to our wide variety of plants and flowers, all of which are locally grown in our West Seneca Greenhouses. Contact us today to learn more!