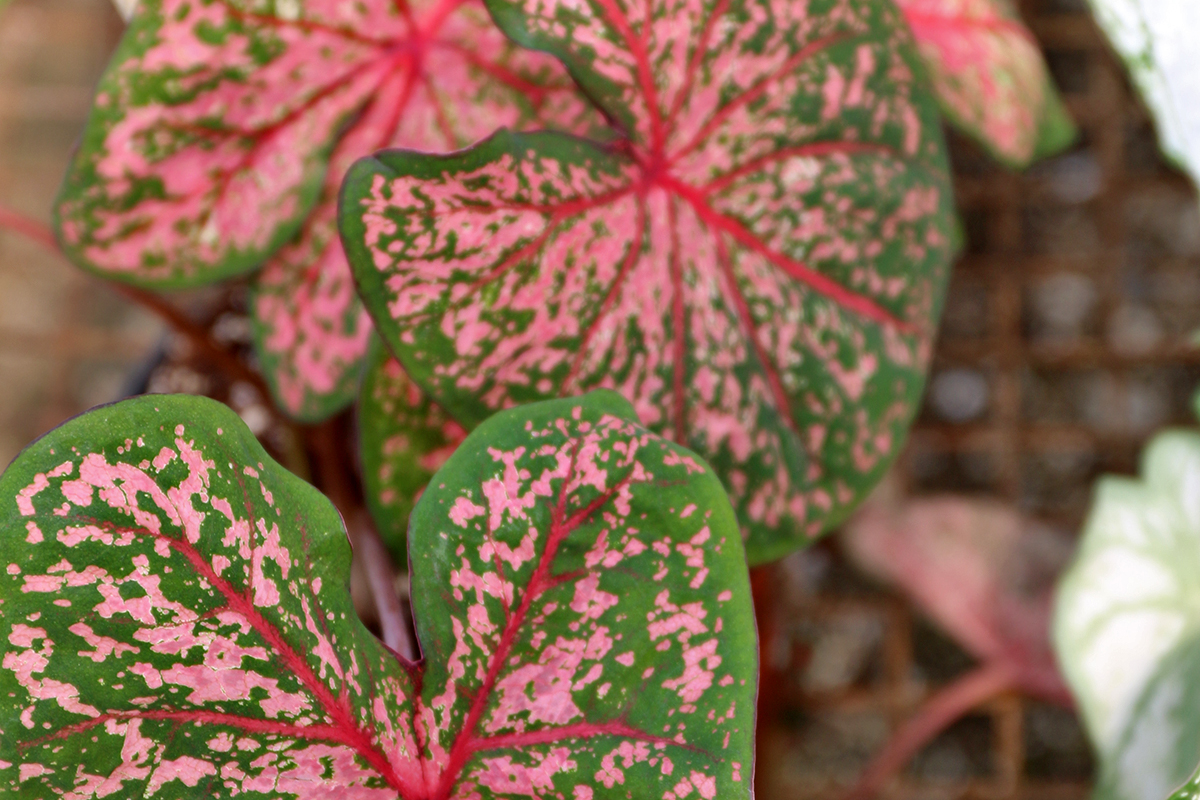 Caladiums: Heart of Jesus
These large heart shaped leaves are known by many nicknames such as elephant ears (like its cousin colocasia), angel wings, and heart of Jesus.
Just like snowflakes, no two leaves are the same, coming in a variety of colors and heart shapes. Native to South America and Central America, this plant grows along the banks of rivers near the forest. These plants often do not produce flowers, however, their colorful leaves and large shape can add some great fill to your garden or landscaping.
This easy to grow plant is a perfect selection for gardeners of all skill levels!
[one_third]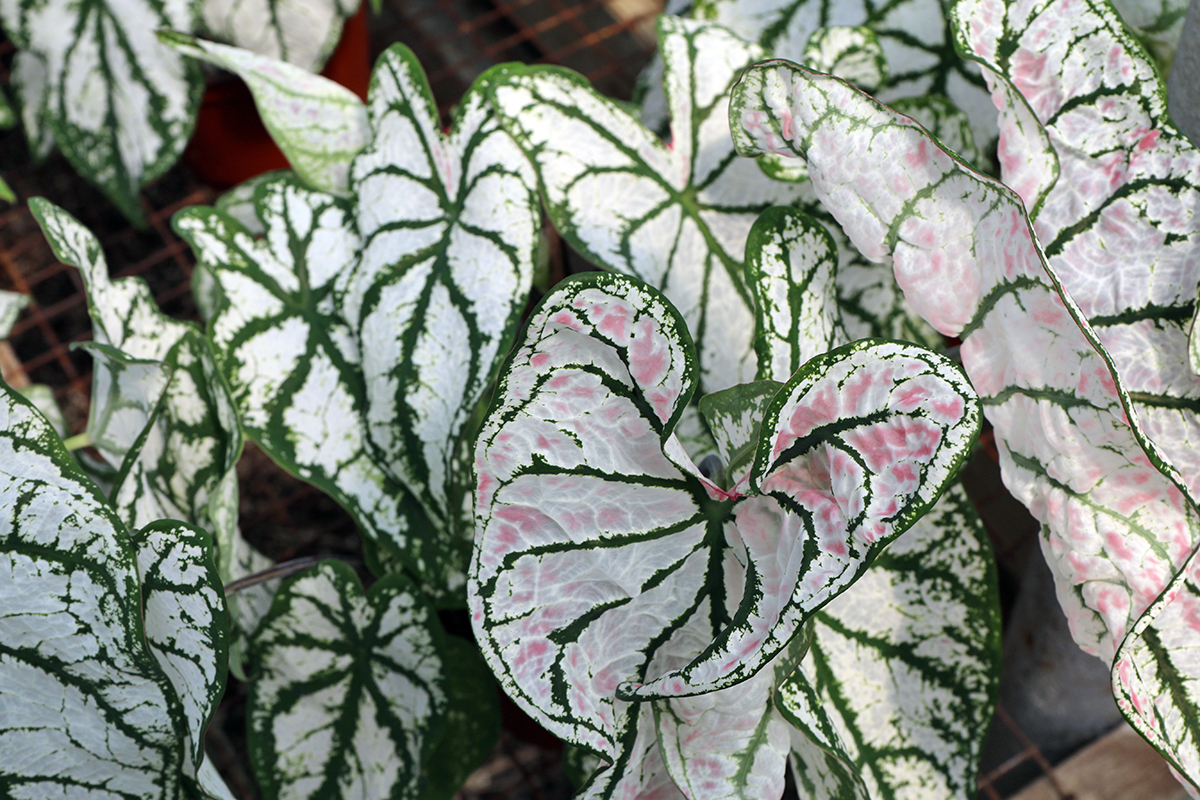 [/one_third]
[one_third]

[/one_third]
[one_third_last]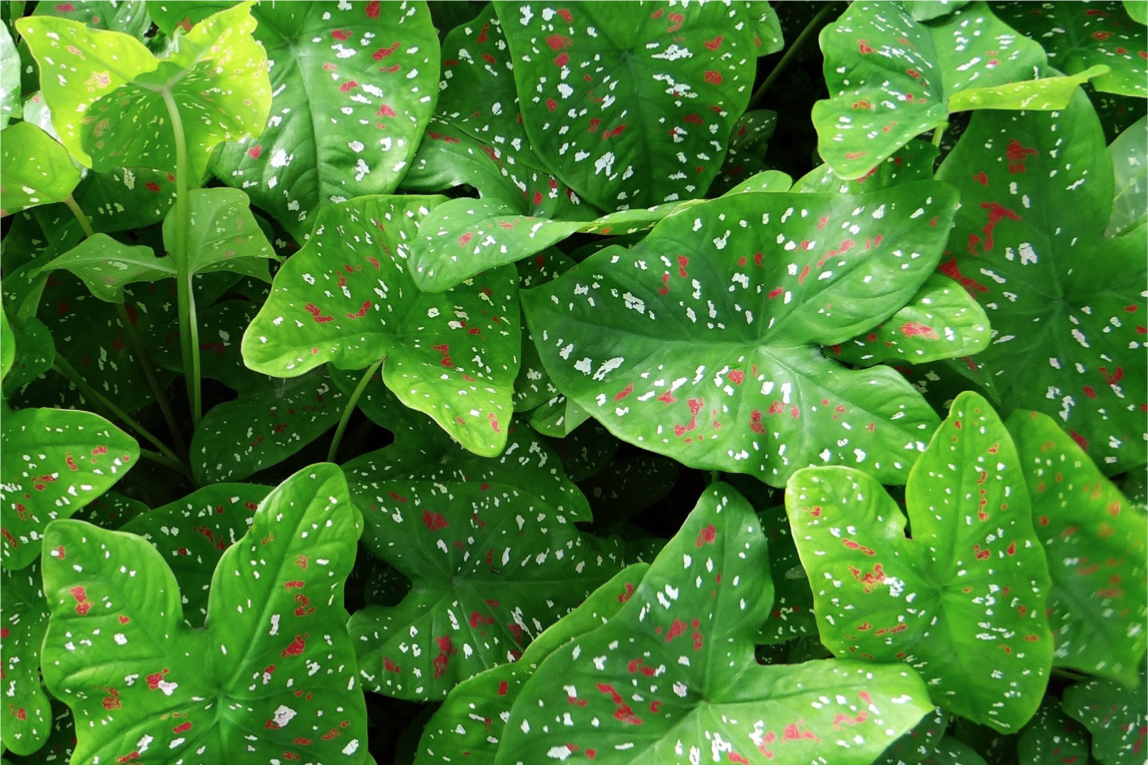 [/one_third_last]
Growing Caladiums
Caladiums, being native to South America, do very well in warm climates. You can grow caladiums from tubers or ready to plant pots, like our 4 ½ inch or 6 inch pots. Spacing them 12 inches apart, place plant or tuber 3 inches deep in the soil and cover the top inch. The best time to start planting is when the soil has reached at least 65ºF to ensure the roots thrive!
Caring for Caladiums
Temperature when first planting is key to the plants survival, however, when the temperature drops, the mature plants will go dormant and the leaves will wither. But don't worry! Leave the bulbs in the ground and it will regrow in the spring! Liquid fertilizer is greatly appreciated by the plant to help healthy growth and full leaves.
Water
Keep the soil slightly moist. Water on a regular basis to ensure the plant is getting enough, making sure to keep an eye on the soil if they are in direct sunlight.
Sunlight
Although caladiums do well in both sun and shade, a mix of the two is preferential. While some newer strains of the plant can survive more sun, too much can dry out the plant, causing it to prematurely wither.
Soil
Caladiums need well drained soil and a good mix of nutritional fertilizer. Use compost to introduce organic nutrients to the soil to help the plants grow!
---
Fun Fact: There are over 1,000 Caladium cultivators in the world! Most having their own colors and shapes!
---
Looking for some beautiful and colorful fill plants like caladiums? Visit us at Bengert Greenhouses! You will find a wide selection of plants and flowers to suit all your gardening needs. We also proudly offer mulching services in addition to our wide variety of plants, all of which are grown locally in our West Seneca Greenhouses. Contact us today to learn more!