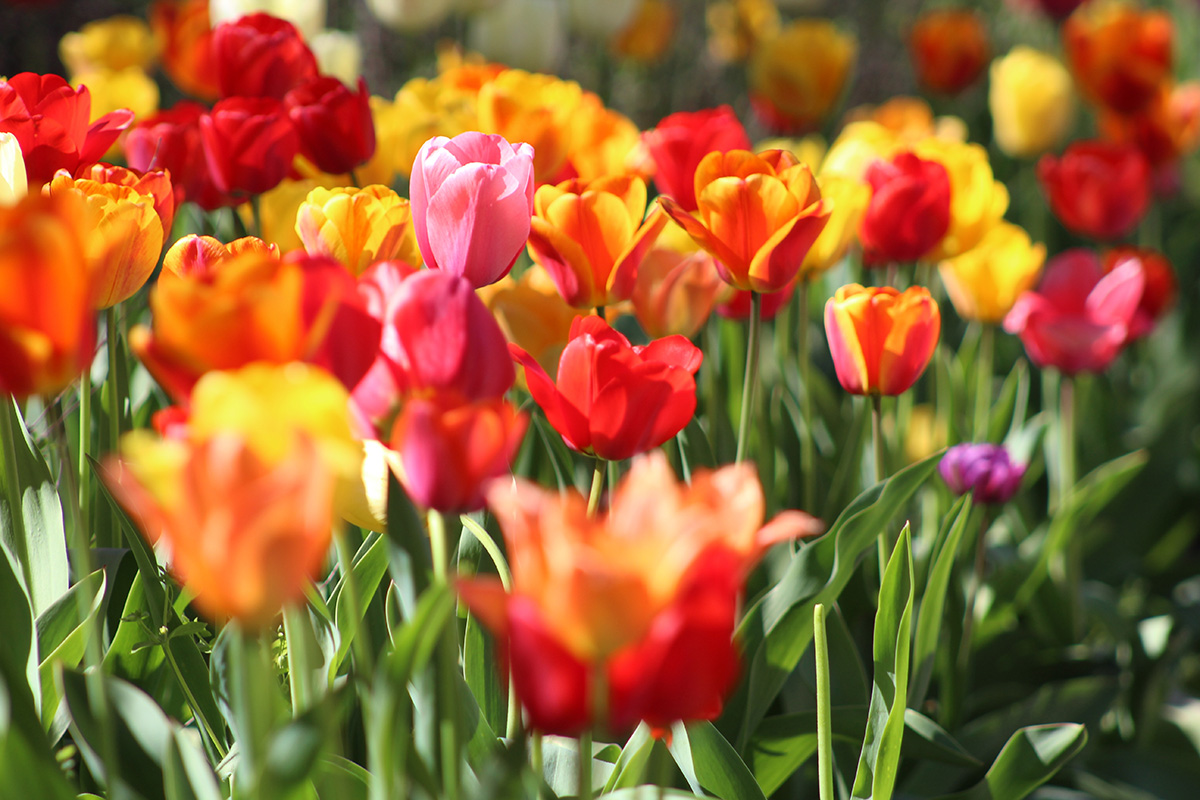 For those dreaming of spring, you may be checking the ground for signs of life starting early February. Spring can be unpredictable. From warm sunny days to days on the brink of frost, you need a garden that can withstand the cold weather. For others, you simply need a headstart getting your garden back in shape. Here are some tips to get the most out of your spring garden before the season peaks.
Pair Bulbs & Hardy Annuals
If you ran out of steam digging 50 bulbs last fall, your spring flowers may not be as lush as you want them to be. Your tulips, daffodils, and hyacinths may need a little bit of help. Intersperse annuals that can tolerate cold weather into the mix. Half-hardy annuals, like pansies and violas, can be planted early because they can tolerate frost and bounce back. Enlisting the help of these flowers will not only make your garden look like one from a magazine, but it will also make your early spring garden look better for longer.
However, if you are pairing bulbs and annuals, you need to plan. Bulbs should be planted 4-8 inches deep. When annuals are first offered in your nursery, you should see green foliage emerging from the bulbs. Plant your annuals, but be careful to not disturb the bulbs.
Need some inspiration? Try these annual and bulb combinations.
Tulips and primroses
Hyacinths and pansies
Daffodils and scented stock
Dutch iris and sweet alyssum
Include Flowering Shrubs
Perennials and annuals aren't the only plants that can provide color in your garden. Shrubs play a very important roll in your landscape design. Shrubs not only give your garden texture and dimension, but they are also sources of shade for your shade-loving flowers. Many shrubs also provide privacy and windbreaks when planted in groups.
Looking for some flowering shrubs? Try these:
Forsythia
Hydrangea
Rhododendron
Lilac
Grow Spring Containers
Are you worried that the grown is still too cold for flowers? Add some containers to your garden. This way, you can get earlier blooms into your garden before planting them in the ground. Small hanging baskets can be brought into a shed or garage when the temperatures drop at night, then brought out again in the morning. Large containers can also be moved if you think ahead and put them on casters.
Choose Early Bloomers
Start your garden early. The colder your climate, the more anxious you may be for spring. Planting early bloomers may give you peaks of color as soon as your holiday decorations come down. Not only do early bloomers add color and beauty, but they can also be helpful for attracting bees and other pollinators to your yard early in the season. This will encourage them to make your garden a regular place to visit all season long.
Early Blooming Flowers
Snowdrop
Eranthis hyemalis
Chionodoxa luciliae
---
Are you looking for additions to your spring garden? Come to Bengert Greenhouses! We pride ourselves on growing outstanding quality flowering plants. All of our plants are grown locally in our West Seneca greenhouses which helps the local economy and community.