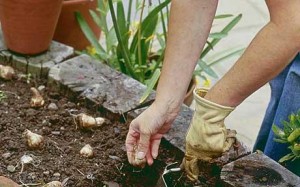 It's Almost Spring!
It's time to start thinking about planting bulbs for your summer garden.
If you missed the fall planting season, don't worry! There's still time. Late-planted bulbs may bloom later than normal but perennials will be back on schedule for next year.
Start with a spring clean up. Cut perennials back that weren't pruned in the fall but be careful not to cut into new growth that may be emerging!
---
Spring Bulb Planting
When planting, position bulbs at their proper depths to ensure longevity, and water them to help stimulate root growth. To judge a proper depth, plant bulbs so the bottom rests at a depth that is 2 1/2 times the bulb's diameter. (Plant two inches deeper in loose, sandy or well-drained soil.) Plant bulbs individually side-by-side or in small groups to leave enough room for roots to grow.
Regularly fertilizing a soil that has been enriched with compost is not required for most plants, as they will obtain the nutrients they need. Your garden may benefit from one to two applications of a balanced fertilizer in early spring and again in early summer. (Overfertilizing can harm plants, while the right amount of fertilizer can provide healthy plants and blooms in your flower garden.) Mulch around plants to help with weed control and retaining moisture. And of course, always visit your local gardening center (like us!) for more advice.
---
We'll help you pick out the perfect flowers for your garden. If you have any questions about proper flower maintenance, give us a call! 716-823-6114.