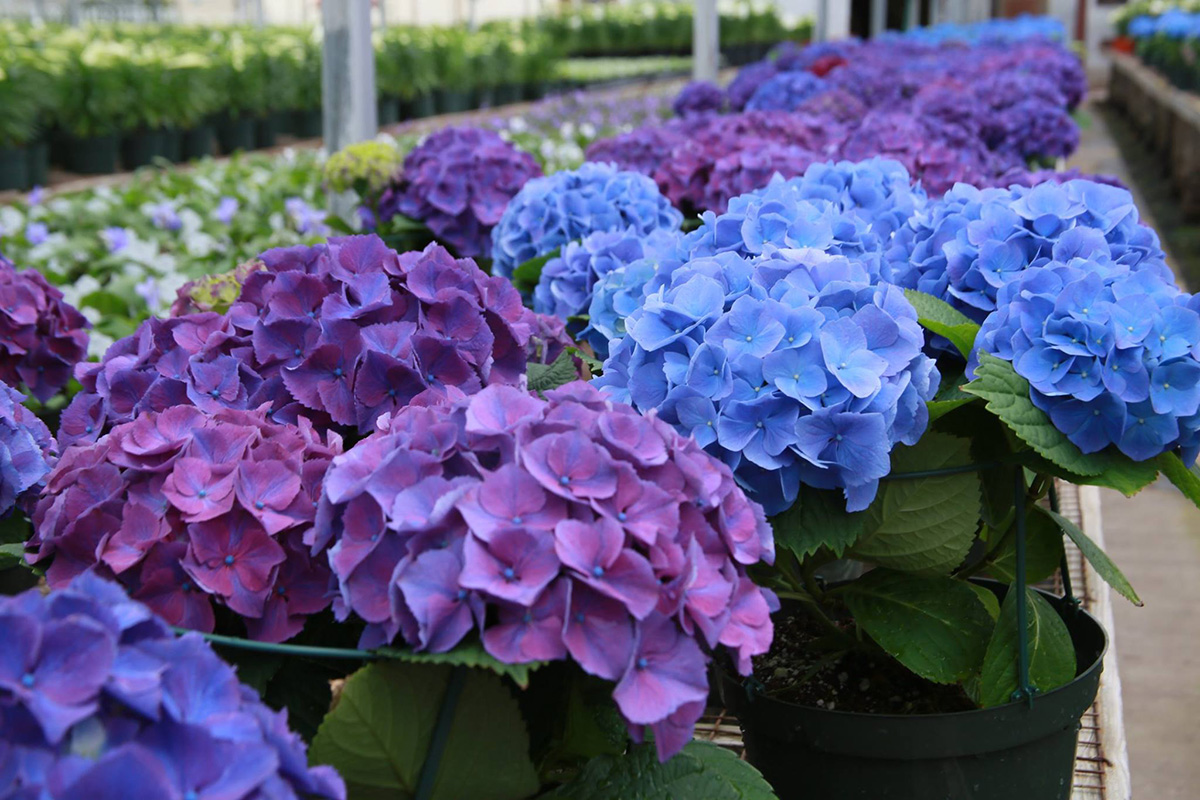 Hydrangeas: The Ultimate Garden Showstopper
A popular plant for the spring/Easter season is that pom pom-like flower we all know and love: hydrangeas!
Hydrangeas are a popular shrub because they are easy to care for, tolerate almost any soil, and grow all by themselves–a perfect flower for the beginner gardener! Although hydrangeas are traditionally favored in the south, their gorgeous pastel hues and ability to withstand colder climates makes them ideal for almost any garden bed.
Hydrangeas come in a variety of colors including white, pink, blue, red, and purple. These "endless summer" flowers love moist soil and bloom from spring to late fall!
Growing Hydrangeas
Set the foundation for your garden landscape with these extravagant blooms that readily take root. These long-lived plants grow quickly and can reach heights of up to 15 feet, but it's important to consider the location before planting. Hydrangeas will grow to take up a lot of space so give them plenty of room. Plant in early spring to give them time to root before blooming, and choose a spot on either the north or south side of your home to give your hydrangeas the best of both worlds: sunny mornings and shady afternoons!
Caring for Hydrangeas
Water
Hydrangeas prefer moist soil with good drainage. Water logging these plants is the quickest way to kill them. In general, water at a rate of one inch per week, and deeply water three times per week to encourage new root growth. Water your hydrangeas regularly in the morning to prevent them from wilting in the mid-day heat.
Sunlight
The most important requirement for growing hydrangeas successfully is giving them a sheltered location. They will grow best when they receive warm sunlight in the morning and shade in the afternoon. Avoid planting directly under trees–they'll compete for water and nutrients!
Soil
Again, hydrangeas prefer moist, porous soil with great drainage. Ideally, your soil should contain plenty of organic material. For hard soils, try adding compost prior to planting to improve its quality.
Fertilizer
The type and amount of fertilizer is based on their specific variety. A thick layer of mulch can help keep soil cool and retain moisture, so consult the professionals at Bengert Greenhouses on what fertilizer is best for your species.
Deadheading and Pruning Hydrangeas
Despite a long growing season, hydrangeas don't require excessive maintenance. Simply remove dead wood, cutting it off at the base of the plant if the whole branch is dead.
These blooms make magnificent cut flowers, and benefit from regular deadheading to keep them blooming throughout the spring and summer seasons. Towards the end of summer, allow the blooms to die and fall off naturally so they don't rebloom too close to the first frost.
---
Fun #FlowerFact: In parts of Asia, giving someone a pink hydrangea is like telling them "You are the beat of my heart!"
---
Get ready for the Easter and spring season by taking a trip to Bengert Greenhouses. Not only will you find beautiful ready-to-plant hydrangeas, but you will also find everything you need to prep your garden for summer. We proudly offer mulching services in addition to our wide variety of plants, all of which are grown locally in our West Seneca Greenhouses. Contact us today to learn more!