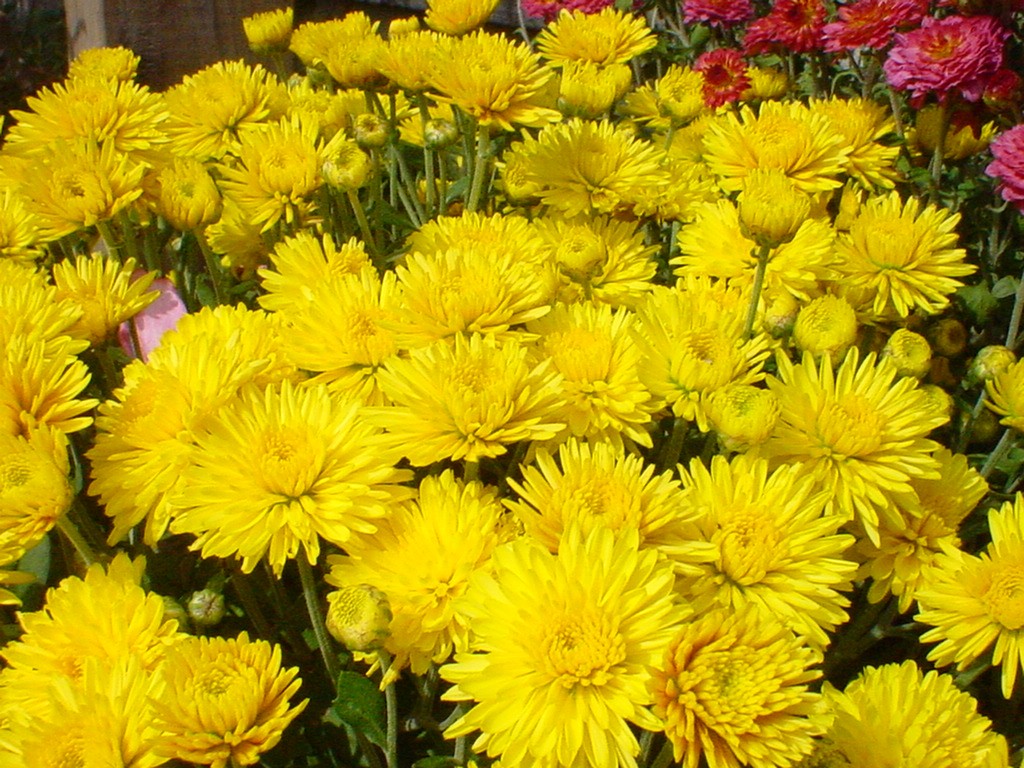 When fall arrives, it can be hard to watch all of your beautiful summer blooms die off. However, fall also brings about the star of the fall flowers: the chrysanthemum. With so many varieties, there are plenty of ways to enjoy them, from planting yourself to decorating your home with them. Their blooms will last for weeks with a large number of flowers per plant. Mums are perfect for mass planting because of their tight, mounded habit and stunning bloom cover. Plus orange, bronze, yellow, and white mums are perfect additions to your fall decorations. Learn how to grow mums for your garden and spice up even the most drab of fall landscapes.
Varieties
These flowers come in more than just a few autumnal shades. There are actually multiple varieties of mums in a wide variety of colors.
Apricot Alexis: These flowers tend to grow in an obvious apricot color and will be quite large once their blooms fully open. They can easily be the center of attention in autumnal flower bouquets.
Candid: Usually deep red with lighter ends on their petals, they are also one of the larger varieties of mums once their blooms open.
Seatons Ruby: Red tipped with a golden hue, these two-toned flowers have traditional mum petals around the outer edge, but a large, raised cushiony center.
Honeyglow: Honeyglow are what you think of when you think of mums. Coming in reds, oranges, and golds, this is a classic choice when adding some bright color to your decor.
These are colloquial terms for blooms. When visiting your local nursery, you can also say you're looking for spider, quill, button, cushion or anemone mums.
Growing
No matter whether they live in the ground or in a vase, mums are very hearty flowers that can live a long time. However, when growing, it is important to give them proper care so they can reach their peak. With planted in the optimal location and given proper care, they will grow year after year! Here are some tips for caring for your plants.
Location
These flowers need at least 6 hours of sun a day. If they do not get enough sun, they will be tall and leggy and produce fewer, smaller flowers. Try to not plant them alongside your house or garage if that area is typically shaded.
Soil
Mums thrive in well-drained soil. If your yard is soggy after the lightest rain, try growing your mums in a raised bed with friable soil. If your soil is too dense, add compost. Mums roots are shallow and they don't like competition. When planting them, plant them 1 inch deeper than they were in the nursery pot and carefully spread the roots.
Water
Newly planted mums need to be water thoroughly. They should never be allowed to wilt. Once they have grown, give them about 1 inch of water per week. When their bottom leaves are starting to limp or turn brown, water them more often. However, avoid soaking the foliage as this can encourage disease.
Overwintering
Mums should be prepared for winter after the first hard frost. Mulch up to 4 inches and fill in around the entire plant, spreading between branches. Dead blooms should be pinched off, but branches should stay intact. They have a better chance of surviving if you wait to prune old stems until spring. When the weather warms, trim off the previous year's stems as soon as new growth begins to show.
Decorating
Mums can be easily trimmed and placed as decoration around your home. They still have a long lifespan when cut as long as they are taken care of properly. Change the water in the vase daily and keep them in a cool area of your home. You can also place mums in pots, a window box, or in a mixed container with other plants. Mums are also perfect additions to any garden. Most mums will withstand a light fall frost, so coordinate bloom time with the length of fall in your area.